I know. I know. It's been like two months since I've typed a single letter for you wonderful people. Look, salve I've been working like a madwoman which is basically a lame way of saying "I'm lazy" and you're all "Boo, thumb you whore" and you have every right to be. I've slacked on my duties. And I know I missed a lot of gems (ahem…Donald Sterling). But I take my job of writing about sports morons for free very seriously, so I'm back with another installment of stupid sports.
Let's start here in Sweet Home Chicago with everyone's favorite losers: the Cubs. I'm not a big baseball fan, but by that last sentence you can clearly see where my alliances are. Anyway, so the Cubs were playing the Mets and I guess the game was pretty boring. The scoreboard operator fell asleep sometime during the sixth inning.
I'll admit; I've been to one Cubs game. It was a couple of years ago. We got there during the second inning and left during the seventh inning. I have no recollection of who they played. And if we're being really honest I still, to this day have no idea who won. Go Cubs.
On to the NBA where we have another player one year closer to 30. Chris Paul turned 29 on May 6 and – like most people that age – received a gift that money just can't buy: an autographed picture from his childhood crush Kelly Kapowski.
Guys, this isn't stupid. This is awesome. Who didn't love Saved by the Bell? Kelly was basically the coolest and nicest chick ever. She had a hot boyfriend. And she was really pretty and everyone liked her. Well now rereading that, it makes me hate her, but whatever. This is great and I approve of this birthday gift.
Chris' bestie LeBron James had cramps in game one of the NBA Finals against the Spurs. And pretty much everyone made fun of him. Did I watch game one of the NBA Finals? No. Am I going to watch game two of the NBA Finals? No. Do I plan on watching any of the NBA Finals? I'll need to check my schedule, but probably not. It's not that I don't care…ok, well maybe it is that I don't care, but that's not the point.
#Lebroning with @RobertPriceKABB @AshleiKing pic.twitter.com/JV4qBAPLXh

— Erin Nichols (@erin_nichols) June 6, 2014
The point is that until LeBron has pain reverberating from his girly parts while feeling nauseated, exhausted and bleeding profusely, I don't want to hear him complaining about cramps. Us women show up to the job every month when we'd rather be carried around by our coworkers or binging on Netflix and pad Thai. Suck it up, Bron.
#Lebroning pic.twitter.com/Vvd2KfR2jX

— Claire Trammel (@ClaireTrammel) June 6, 2014
And while we're talking about LeBron, I'd like to add my two cents to the whole "LeBron James is the Michael Jordan of this era" debate. Before I give you my opinion, I'd like to inform you that I actually think LeBron seems like pretty decent guy.
Lebron sure could have used Lance Stevenson in Game 1! #BeatTheHeat #HeatvsSpurs #NBAFinals #Lebroncramps #Lebroning pic.twitter.com/TejYTsbX9s

— RaffaeleG2 (@RaffaeleG2) June 6, 2014
His commercials always warm my heart and/or make me laugh. He's articulate and intelligent. And he married his high school sweetheart who stays far the hell away from anything that comes close Basketball Wives. I like LeBron, and I hope he wins another championship this year.
Lebron sure could have used Lance Stevenson in Game 1! #BeatTheHeat #HeatvsSpurs #NBAFinals #Lebroncramps #Lebroning pic.twitter.com/TejYTsbX9s

— RaffaeleG2 (@RaffaeleG2) June 6, 2014
So here's my opinion on the LBJ/MJ comparison: until he wins four championships, he's not. End of story.
Moving on. So, I went to Illinois when Illinois basketball was actually good. I was there for the tail end of the Bill Self era and the beginning of the downfall: the Bruce Weber era. But before he showed us he couldn't recruit and was an average coach (at best), he led the team on their historic (to me) 2004 title run that ended in, well, no title. Thanks to the talented boys from Chapel Hill, I watched – despondent – as these d-bags in baby blue cut down the nets in St. Louis (Indy? Whatever, they lost, I blocked it out, leave me alone, kbye) and won the championship.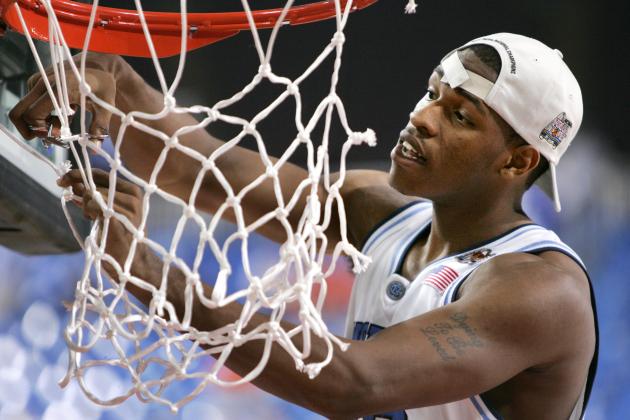 Well Rashad McCants recently came out and said that  during this time, he never went to class and made the Dean's List. Now, UNC is a great school. It's basically a public Ivy. You have to smart to go there…unless you play basketball. Then, apparently, you just have to play basketball and "…bring prestige to the university by winning games." Yes, he actually said that. Moron.
You know what brings prestige to universities, Rashad? Rhode's Scholars. Pullitzer Prize recipients. Fulbright Scholars. God, even high rankings from shit like U.S. News and World Report. The best part of this whole thing is that reports are calling this "explosive." Really? You know what's explosive? An NFL player being accused of rape. Another NFL player dragging his passed out fiancé out of an elevator. A different NFL player (man, these guys do a lot of dumb stuff) shooting himself in the leg while out a nightclub. Some superstar college athlete being basically illiterate and not going to class? Please.